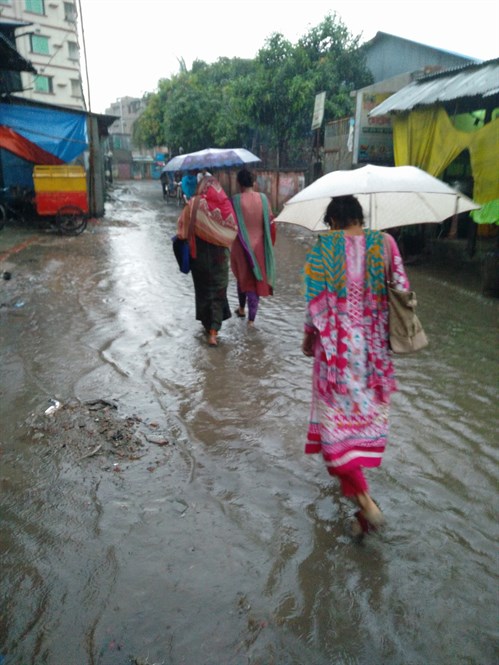 By Sumona Siddiqua, Farzana Islam, Malabika Sarker, Sabina Faiz Rashid
Bangladesh, like many other developing countries of Asia and Africa, is going through a tremendous crisis of health workforce where estimated ratio of doctors and nurses are 3.05 and 1.07 for per 10,000 population respectively. To combat the shortage of health workforce the Bangladesh government along with the private sectors and non-government organizations (NGOs) involve close-to-community (CTC) providers, including formal and informal providers.
CTC providers are low paid or volunteer front line workers and responsible for regular field visits to households to disseminate information on sexual and reproductive health (SRH) issues; menstrual regulation (MR) services; family planning; antenatal care (ANC) and post-natal care (PNC) services. They counsel the clients, promote clinic services and referral activities, and carry out data collection. They also visit homes, identify clients who wants to do MR, refer them to a clinic, and if needed they accompany them to their appointment. This cadre serves as a bridge between professional health staff and the community and assists communities to identify and address their own reproductive health needs related to family planning, MR services, sexually transmitted infections, and pregnancies. But as in many countries, Bangladesh faces challenges in retaining CTC providers, especially volunteers.
Ava's experience
Ava (not her real name), one of the CTC providers who took part in the REACHOUT facilitative training programme, has been working to help women in the community with their reproductive health needs as an informal CTC provider for over ten years and referred clients to the Marie Stopes Bangladesh clinic. She is a 31-year-old married woman who has two school-going children. Her husband is an informal traffic control worker. He did not earn much and wasn't able to fulfil the family's basic needs.
From the very beginning of her family life, Ava wanted to contribute to the family income and provide monetary support to her children's education. She tried to find a job, however, she was not successful as she has no formal education or any technical training. She did not give up and tried to talk with the neighbourhood women to find out whether there are any opportunities to have a job. Finally, she got to know from a Marie Stopes Bangladesh staff member about cash benefits by referring female clients in the clinic for child delivery, family planning, and MR related services. Without delay, she made the decision to start work as an informal CTC provider and to be volunteer of Marie Stopes Bangladesh. Her activities were not limited to only referring the clients to Marie Stopes Bangladesh, she also accompanied clients to the clinic, provided support to the clients while they were using the clinic's services, communicated with clients by mobile phone to follow up, and provided moral support whenever needed. She was very hardworking and passionate to her job and her neighbourhood women clients were welcomed by her and sought her support even at midnight. Ava dedicated herself to support vulnerable women so that they could have easy access to quality SRH services, especially MR services.
But after 10 years, unexpectedly her husband started mistrusting her activities. He showed disrespect and made negative comments, such as "you are going for bad work with other men".  Ava's husband prohibited her from discussing MR and SRH-related issues with other men. He was motivated by people around him. He felt that women of good character should not work in the community and conduct door-to door visits and talk about these issues. He started to scold Ava and humiliated her both mentally and physically for her job. He even attended Ava's mobile calls and addressed her clients disrespectfully. He used to call her to find out about the locations she was working and then followed her to see exactly where she was. 
Ava became upset with this kind of attitude of her husband. She is a dignified woman with self-respect. She left her husband twice to avoid the embarrassing situation, however, every time she came back because of her children.  "I know how bad he is, but I cannot leave because of my two children," is what she said about the situation. Although she loved her job and believed that she has responsibilities to her neighbourhood women in terms of providing a quality service for the sake of children's wellbeing she decided to leave the job. Women from her community came to her for several times and repeatedly requested her to continue her job and get rid of the brokers who used to confuse them and forced them to receive SRH related services especially MR services from providers who were not professional.
Ava felt that she had saved many women from complications after MR through timely referral to clinical services. She was very happy with the REACHOUT training, but felt bad because afterwards she was not able to apply her updated knowledge in the field. She said, "If anyone will train me in the future, I will appeal to them to please train my husband along with me." She remains hopeful that her husband will be able to understand her and allow her to start work again as a community health care provider.
Implications
Ava's story helps us to understand the challenges faced by female CTC providers, and some of the reasons for the high level of dropout. Female CTC providers experience more difficulties than male CTC providers to continue their work due to lack of family members' support, social insecurity, teasing from both male and female community members, and social taboos. Many women in our society often sacrifice their jobs because of their husbands' dominant character and family pressure, and reasons linked to gender relations and women's disadvantaged status in society. Sometimes husbands feel inferior when their wives work outside and bring a steady income home, sometimes social pressure (insinuating comments from family, neighbours and other community members) become too much. This problem of female CTC providers who feel they cannot continue their work must be addressed in the organisations by conducting counselling sessions involving the family members of the CTC providers and sensitize the family members about the nature of community health workers' job-related responsibilities and activities in the community.  This could help to empower female CTC providers, both formal and informal and reduce the number of dropouts. 
Recent news