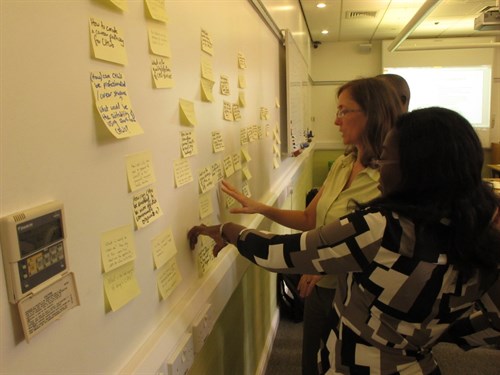 By Sally Theobald, 25 June 2014
From the 18-19 June 2014 I attended a workshop in Liverpool on the strategies for attracting, retaining and improving the performance of Community Health Workers (CHWs) in Africa. It was a chance to hear more about qualitative country case studies from: the Democratic Republic Congo (IPASC, Amuda Baba); Ghana (University of Ghana, Patricia Akweongo); Uganda (Makerere University, Sebastian Bain) Zimbabwe (BRTI, Stephen Buzuzi) and Senegal (University of Dakar, Guelaye Sall). These are all contexts where CHWs are a recognised cadre, but not contracted, employed or paid on terms and conditions of a standard paid civil service contract. The meeting was part of a project funded by the Special Programme for Research and Training in Tropical Diseases at the World Health Organization.
What is human resource management?
Drawing on the work of Armstrong, Tim Martineau explained that human resource management refers to "a strategic approach to acquiring, developing managing, motivating and gaining the commitment of …the people who work in the organisation and for it."
With a focus on CHWs he highlighted that:
The term CHW covers many types of workers – from community based distributors to health surveillance assistants
There are a range of CHW roles – from community organiser to promoter of health behaviour to provider of curative health care
Key questions and challenges from a human resource management perspective include how to manage such a diverse portfolio of workers and roles? For example how do you attract people into these jobs, reduce turnover and support performance? How do you share good practice of managing and supporting CHWs?
Drawing on the PERFORM District Health Management Team methods manual, Tim highlighted strategies to support performance management, including direction (e.g. induction, appraisal, team meetings); resources (e.g. finance, infrastructure, information systems); competencies (e.g. merit based recruitment and training and development) and rewards and sanctions (e.g. team or individual incentives, additional responsibilities, issuing of verbal and written warnings, dismissal).
There is need to think through which of these strategies are most appropriate for CHWs and Claire Glenton has argued that programmes should seek to understand the expectations and motivations of local CHWs and attempt to match these expectations with appropriate incentives.  A lively discussion followed with participants, many of whom felt that given the lack of formal payment to CHWs carrots are more appropriate than sticks! Carrots may come in the form of incentives (bikes, boots and brollies); community relationships and feedback, and opportunities to interface and share experience with other CHWs. These are similar to the coping strategies of formal health workers that have emerged from research conducted in Northern Uganda for ReBUILD.  
Differences and commonalities across countries
Jo Raven talked us through some initial findings from the ongoing inter-country analysis.
In DRC, Ghana and Senegal, CHWs were attracted to the role in part because of free/reduced fee or preferential health care for the CHW and their family. In Uganda CHWs explained that the skills and supplies enabled them to take good care of their own children. With respect to recruitment and selection a range of strategies appeared to be in place; with communities often selecting CHWs, but sometimes this was the role of the chief (Ghana/Zimbabwe) or health authorities (DRC, Ghana). Some country policies stipulated that CHWs had to be married and in others being "responsible and respectable" was a prerequisite. Strategies to support retention overlapped with those related to attraction and included for example: praise and recognition from the community (Ghana, Senegal); incentives from health campaigns e.g. immunisation (DRC, Ghana, Uganda), treatment at health facilities for CHWs and families (DRC, Ghana); lunch and travel allowance for attendance at meeting (Uganda). Common strategies to enhance performance management included ad hoc refresher training related to programmes and linked to meetings (Ghana/Uganda), reporting to supervisors (Senegal, Uganda and DRC) and regular meetings with supervisors (DRC; Senegal and Uganda).
This analysis and emerging findings from REACHOUT demonstrate CHWs' interface role showing how they act as a bridge between vulnerable and marginalised communities – and health systems; and also highlight the need for further action and innovation in different contexts to support and motivate this critical cadre. 
Recent news stories