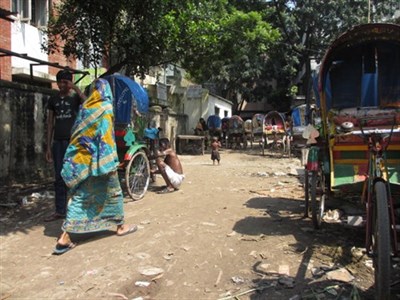 by Hermen Ormel, Muhammad Riaz Hossain, Md. Habibullah Fahad and Kuhel Islam, 29 October 2013
For those not familiar with the fastest growing mega-city in the world, Bangladesh's capital Dhaka with 22 million inhabitants is an experience of extremes. So many people, so much traffic and such narrow Old Dhaka streets. Yes, a lot of poverty – but also a vibrancy and creativity to make the best of life that are may be best symbolized by the craziness and variation in means of transport. Cars, buses, double-deckers, lorries, manual cart pullers, ambulances, richly painted bicycle-rickshaws, 'clean' motor-rickshaws running on natural gas and lorry-rickshaws: they are all jostling for space and speed, and with not much consideration for each other, traffic police, beggars and pedestrians.
Although the above made the most impression on the visiting KIT researcher, all four of us have to experience the 'creative' traffic when finding our way to Keraniganj, a small low-income urban settlement, just across the Buriganga River. Situated on private land, a single owner left his inheritance to a number of relatives – each of whom are trying to squeeze a profit out of the tenants inhabiting the narrow dwellings in the walled, narrow alleys where we walk, children looking on us with curiosity.
Some owners apparently invest in hard-surface streets and concrete houses, sometimes two stories or higher. These parts make the area almost look  'developed', and allow the charging of a monthly rent of between 1,500-2,600 Taka (USD20-35) for  single-room apartments (12x15ft or roughly 3.5x4.5m) mostly inhabited by families of two adults and several children. In comparison: a rickshaw 'puller' can earn up to 6,000-9,000 Taka (USD80-120) per month.  Meanwhile, other parts look like they have not been looked after in half a century and are muddy and the dwellings are mere shacks consisting of a couple of rusty, leaking corrugated sheets of metal that are in desperate need of 'renovation'. Four toilets are used by more than thirty families.
This is the setting of one of the four sites selected for the REACHOUTresearch and intervention programme, addressing the role and performance of close-to-community (CTC) providers with a special focus on sexual and reproductive health and rights. Today we aim to talk to a couple of these providers, as well as some community members, to allow the KIT visitor to get a better idea of the context in which the research takes place.
However, several of the people we try to meet are not available. The traditional healer isn't home as this person works elsewhere during day time. The Dai (female traditional birth attendant) is away doing her regular (non-Dai) work. And all informal pharmacies are closed, so we can't talk to drug sellers either. The latter is due to a national strike of drug sellers, in protest against a government crackdown on counterfeit drugs, whereby (according to newspapers earlier this week) a number of drug sellers doing illegal business have been arrested and a considerable volume of counterfeit drugs confiscated.
These informal CTC providers are among the most sought after by the population, for sociocultural and health belief reasons but also out of financial considerations – private clinics, diagnostic centres, NGO  clinics or government services, all involve the need to spend cash, for transport, diagnosis or drugs. Cash that many can't spare and this could very well make the issue of 'access' and 'choice of formal versus informal service provider' a key one for the research and intervention.
Then, finally we are able to talk to two Shasthya Shebikas – female health volunteers (and CTC providers) trained and supervised by BRAC, the Bangla partner in the 8-country REACHOUT consortium. Ideally there is one Shasthya Shebika for every 200-250 households. We talk to the two ladies in the alley outside their homes, where they offer chairs to the visitors while standing themselves. Many other neighbourhood women and some children listen in with curiosity during the conversation about their initial training, daily volunteer work visiting households, addressing child nutrition issues and referring pregnant women to the BRAC delivery centre. Their motivation "to mean something for women's health" is impressive.  What they get in return are small incentives, based on the number of pregnant women attending ante-natal care throughout the nine months pregnancy, but also she said:
"the respect of the community, they really honour me. That makes me very proud of my work. It really makes me happy if I get a phone call at 3am to find out that my client is in the delivery centre to have her baby."
This field trip is a good preparation for the week to come, when we will work with the rest of the BRAC University team and joined by our colleague Sally Theobald of LSTM to analyse the qualitative research data gathered, among others, in this settlement.