By Amin Soebandrio, Rukhsana Ahmed (both Eijkman Institute, Indonesia) and Hermen Ormel (KIT, the Netherlands)
The Eijkman Institute for Molecular Biology in Jakarta, Indonesia, one of the REACHOUT partners, was founded during the Dutch colonial era in 1888. Its first director was Dutch scientist Dr Christiaan Eijkman, who in 1929 received the Nobel prize for his ground-breaking research linking vitamins, nutrition and health. The institute, which was closed during much of the post-independence 60s, 70s and 80s, was reopened in 1992 and in August of 2017 will celebrate its 25th anniversary.
For these historic reasons and the current collaboration between the Eijkman Institute and KIT, through REACHOUT, the current Director of the Eijkman Institute, Prof Dr Amin Soebandrio was recently invited to the Netherlands to attend the 110th anniversary congress of the Netherlands Society for Tropical Medicine and International Health, held at KIT on 9 June 2017. Rukhsana Ahmed, who coordinates the REACHOUT Indonesia work, accompanied him. Prof Soebandrio used the opportunity to share historical highlights of the Eijkman Institute as well as key REACHOUT findings from the Indonesia chapter of our research consortium. KIT staff and REACHOUT principal investigator Hermen Ormel, in collaboration with REACHOUT overall coordinator Dr Miriam Taegtmeyer of LSTM Liverpool, offered the overall background information on REACHOUT and some of the inter-country results to date.
Interestingly, the congress' opening plenary presentation by Leo van Bergen, a medical historian, convincingly showed that 'tropical medicine' in the Dutch colonial era was in fact 'colonial medicine'. Focus was on "fighting disease that threatened Dutch colonial rule or economic gains", with "medical thinking dominated by Western supremacy".
During his presentation Prof Soebandrio took the audience on a tour to Indonesia and the Eijkman Institute history, leading to the current-day Institute's recognition as the National Center of Excellence in Molecular Biology and Genomics. While much of the Institute's work deals with genetic biodiversity, human genetics and infectious diseases, through REACHOUT an important component was added focusing on social science research on maternal health and community health workers (CHWs). Prof Soebandrio emphasized the importance of the REACHOUT research among community integrated health posts (Posyandu) volunteers (kader), to support reducing Indonesia's maternal mortality ratio (359/100,000 live births; 2012 data). Kader are the first point of contact of the communities (suburban and rural) to access maternal and child health services.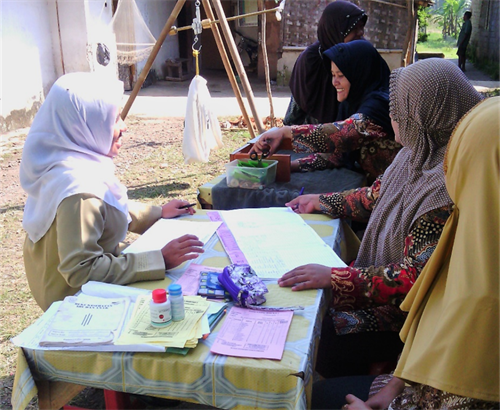 The Eijkman Institute's REACHOUT research brought attention to several challenges faced by Indonesian CHWs. At community level, the patriarchal cultural norm hinders referral by the kader of pregnant women for facility delivery.
"My challenge is that the communities can't accept what I told them. The pregnant woman wanted to deliver at home because her husband didn't permit her to deliver in the health facility." (Interview with female CHW)
At CHW level, findings highlight the limited training opportunities for kader, leading to suboptimal service quality.
"There are some kader that haven't got training yet… The new ones who haven't got any trainings, they don't understand their work." (Interview with community midwife)
Lastly, at health system level, the REACHOUT research points to 'favouritism' in kader recruitment and retention, which hindered the continuity of their work in the Posyandu.
"Kader recruitment and dismissal are based on the favour of the community leader and not on their performance." (Interview with community midwife)
In sum, Indonesian CHW performance is challenged by gender-based decision making at household and community-level, favouritism in recruitment and training limitations. Greater involvement of local leaders to recognize kader's voluntary work and quality services is crucial to help sustaining maternal and child health programs.
The dedicated Dutch audience thus received a glimpse of the rich menu of findings that Eijkman Institute as REACHOUT Indonesia partner offers.
Photo captions and credits:
Prof Dr Soebandrio, Chair of the Jakarta Eijkman Institute, doing his presentation at the congress – linking colonial medical research to global REACHOUT research (KIT Amsterdam, 9 June 2017; photo Hermen Ormel).
Posyandu volunteers in action (photo Eijkman Institute)
Recent news