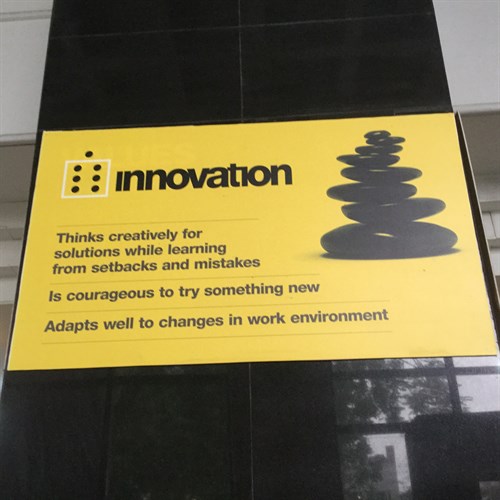 Sally Theobald and Miriam Taegtmeyer
"Innovation means: 1. thinking creatively for solutions while learning from setback and mistakes; 2. being courageous to try something new and 3. adapting well to changes in the work environment", declares a poster in the reception of BRAC, the largest Non-Governmental Organisation in the World. BRAC's innovative outlook is clear even from the reception area where we read in the BRAC bulletin how an all-girls cricket tournament was launched on International women's day 2015 and how BRAC Chicken (Healthy Choice) is the proud sponsor of the first ever national surfing tournament at Laboni Beach in Cox's bazaar (find out more on facebook/BRAC.chicken); meanwhile the video screen in the corner highlights BRAC's programme training women drivers to tackle the realities and challenges of Dhaka's congested streets. The signage to what happens on each of the 21 floors of the BRAC building (which coordinates its action in all 64 districts of Bangladesh) also highlights innovation and includes teams working on the social innovation lab; disaster, environment and climate change; and gender, justice and diversity.
Bangladesh has also demonstrated innovation in the provision of services for sexual reproductive health. Menstrual regulation – to safely establish non-pregnancy up to 8-10 weeks after a missed period- has been available and legal since 1972. The horrendous mass rape of many women during the liberation war in 1971 created a clear demand for menstrual regulation and a political will with the creation of a new country. The political space to continue this much needed service has been maintained and menstrual regulation is currently available through both government and non-governmental service providers (such as Marie Stopes and RH Steps). The focus of REACHOUT in Bangladesh is on sexual and reproductive health and menstrual regulation in collaboration with these partners. We visited Marie Stopes programme in the urban slums of Keraniganj and met women, men, girls and boys living in the slums. Marie Stopes volunteers, CTC providers and supervisors each shared a snapshot of their experiences and invited us into their homes and working environments. We experienced the joys of Bangladeshi hospitality first hand, including the most delicious in season alphonso mangos!
Saluddin Biswas, REACHOUT senior research associate, discussed the question of who is the close-to-community provider, and who is the supervisor? There is a clear hierarchy from Marie Stopes volunteers, to a range of formal close-to-community providers including outreach workers, service promoters, health educators and field coordinators. Boundaries are blurred and multiple players are involved to ensure that women from urban slums receive quality confidential services. REACHOUT uses quality improvements (QI) cycles to support innovation to strengthen close-to-community services. In Bangladesh this includes supportive supervision and referral. The supervision approach recognises that people have dual roles at every level i.e.an outreach worker supervises volunteers but is herself supervised by a field coordinator. The supportive supervision model incudes learning by doing and role play with the aim of supportive (rather than fault finding) approaches cascading throughout the hierarchy through training, role modelling (individual and group) and feedback. This supportive supervision process will also support feedback on referral. Developing robust structures for supervision allows for space to innovate, create and adapt to change and brings a platform for the voices and experiences of close-to-community providers to be heard.
Recent news