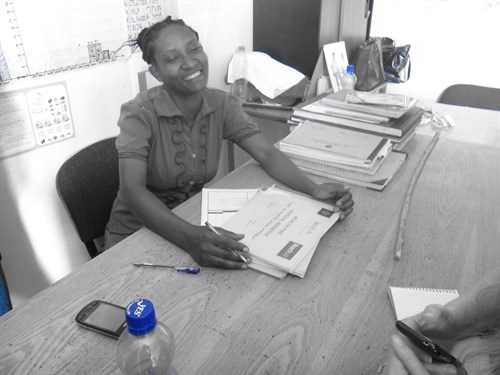 By Hayley Teshome Tesfaye and Jarso Tulu
On the 29th and 30th September 2015 Hayley Teshome Tesfaye, Speciality Registrar in Public Health at Liverpool School of Tropical Medicine and Jarso Tulu, SEARCH Associate Researcher, Reach Ethiopia, Sidama Zone Health Department contributed to a two day symposium "Mobiles, Development & Global Health; A way forward" hosted by Dr. Niall Winters Associate Professor of Learning and New Technologies at University of Oxford, Department of Education.
In this blog, Hayley and Jarso reflect on the symposium and the issues for consideration for the SEARCH project.
Background
Reach Ethiopia and Liverpool School of Tropical Medicine are currently implementing SEARCH – "Applied research on Health Extension Workers using e-health to strengthen equitable health systems in Southern Ethiopia" – funded by International Development Research Centre.
SEARCH will assess the feasibility and effectiveness of using information and communication technology (e-Health) to strengthen equitable health systems and related governance processes through inter-package linking and integration into the existing health management information system in Southern Ethiopia. The e-Health system focuses initially on tuberculosis and maternal and child health – both priority health areas in Ethiopia – through health extension workers using e-Health and mobile technology within their core duties. Process evaluation and mixed methods approaches are being applied to assess the effectiveness of the e-health data collection system. SEARCH is in an early implementation phase, following the completion of baseline data collection and preparation for training and implementation.
Symposium
International specialists in the fields of technology, training and global health gathered in autumnal Oxford, the "city of dreaming spires", enabling the exploration of mHealth projects, aims, challenges, impacts, pedagogy and collaboration. Through inter-disciplinary participation, perspectives were articulated and future possibilities for utilising mobile technology for health objectives (mHealth) envisaged.
The symposium highlighted key issues for SEARCH to consider as implementation of the intervention moves forward.
Information Governance
Symposium participants identified that information governance is a potential and important issue within the design and delivery of mHealth and e-Health projects. Technology can be empowering, enabling increased networking and communities of practice. However, this may also result in unprotected sharing of Client/Patient information and images through social media to access peer/supervisor advice and support. This has ethical issues regarding confidentiality and information can to be disclosed within small communities. SEARCH needs to review and ensure that Client/Patient identifiable information and clinical details are protected through an information governance framework, built into the intervention training including ethical considerations.
Sustainability
Alice Lakati AMREF Health Africa clearly emphasised the need to consider sustainability of mHealth research projects. Alice encouraged the engagement of relevant stakeholders connected to planning and delivery of the intervention, plus ownership of country health system for ongoing implementation and development at the end research project funding. SEARCH from the outset have consulted with relevant stakeholders and the national health system, developing the e-Health intervention tool to mirror existing health management information and ensure interoperability of the community-based e-health with the existing health management information system. However, further engagement by SEARCH with the national health system will be necessary to ensure long term financial commitment and future development of e-Health within Southern Ethiopia.
Outcomes
Emerging from the symposium, it was apparent that mHealth outcomes were perceived differently by specialists within technology, training and global health.  An intervention could be evaluated and have impact at multiple levels, intended and unintended. For the SEARCH team due to start implementation of the intervention, we have reflected on the need to ensure the training element designed, delivered and evaluated to maximise learning and inform future rollout.
NB: We would like to thank Dr. Niall Winters @nwin and @m_CHW team for the opportunity to participate in an excellent opportunity to share ideas and network across global and inter-disciplinary boundaries. The SEARCH project is led by Daniel Gemechu Datiko from REACH Ethiopia in collaboration with Liverpool School of Tropical Medicine and has strategic links with REACHOUT in Ethiopia.
mCHW: a mobile learning intervention for community health workers http://www.mchw.org/
Recent news