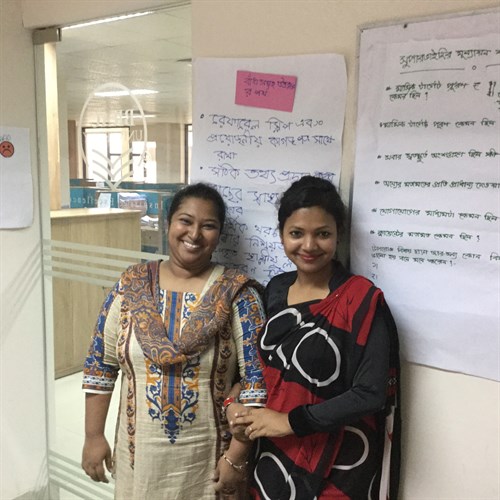 The range of close-to-community (CTC) providers within the six REACHOUT countries (Ethiopia, Kenya, Malawi, Mozambique, Bangladesh & Indonesia) are diverse and changing. For example, in Ethiopia, the key CTC providers are female Health Extension Workers who have been selected and recruited at community level, work on 16 health packages and are salaried employees of the health system. They interact and are supported by a structured community participation process.  This contrasts with urban Bangladesh where there is a complex plurality of both formal and informal health care providers. Here informal providers (such as traditional healers) have a density that is 12 times higher than their formal CTC provider counterparts and they are the first point of call for many poor women, men, boys and girls, as well as being an obvious resource for government and NGOs. Indonesia's unique geography: a population of 250 million spread over more than 17,000 islands, means there are particular challenges in ensuring remote populations receive quality health services. Indonesia and Kenya are also both currently undergoing processes of devolution which brings both challenges and opportunities for strengthening CTC providers. As Charity Tauta, from the Kenyan Ministry of Health explained:
"Devolution to 47 counties, has made work a little bit tricky here and there – at national and county level – and we are still learning. When formerly we had districts we knew our link persons – now we are still trying to understand how to work together".
Despite contextual differences, approaches to strengthen CTC services are similar
In the first phase of REACHOUT we conducted a situational analysis of the current challenges and opportunities for positively impacting on the equity, efficiency and effectiveness of CTC services and developed areas for action for our first set of quality improvement cycles. Four key problem areas for action emerged from the joint analysis:
Supervision of CTC providers is either non-functional or irregular and if it did exist it focuses on fault finding rather than supportive approaches
Referral pathways are not always clear
Community engagement strategies, materials and processes better need to reflect community experiences and realities
Coordination amongst CTC providers and the different stakeholders supporting these processes is poor
All six REACHOUT country partners have taken forward quality improvement cycles that focus on addressing two or more of these problems.
Lessons and reflections from the first round of REACHOUT quality improvement cycles
Cementing partnerships through a participatory approach was a key approach in many country contexts. For example, the Ethiopia team has successfully worked in partnership with key players in the health systems at zonal and district levels, jointly developed guides manuals and tools and formed close mentorship and mentoring approaches. In Malawi, participatory approaches enhanced reception and buy in amongst different stakeholders, with the District Environmental Health Officer from Salima saying,  "They have given us the mandate to decide how best we can improve supervision". In Bangladesh, the team are working in collaboration with Marie Stopes and RH Steps to support uptake of quality menstrual regulation services, by developing structures for supportive supervision: the decision was taken to use trainers from these two institutions rather than from the REACHOUT partner – James Grant School of Public Health - in order to maximise the sustainability and ownership of the process.
Developing new tools/approaches has been enabled through partnership. For example, in Indonesia, where the focus is on maternal health, the quality improvement cycle has involved the introduction of a pictorial aid to support CTC providers' counselling role, which previously was the most avoided task. Now, qualitative analysis has shown that with aide and training, CTC providers are undertaking the counselling role. Other changes include the embedding of a referral card (Bangladesh) and checklists for supervision (all countries).
Developing new trusting partnerships has been important.In Ethiopia, where the quality improvement cycle focus is also on maternal health, one of the interventions has been the establishment of a pregnant women forum. Here pregnant women are supported to meet on a monthly basis to discuss, liaise and plan for services and ANC and importantly, are encouraged to deliver in health facilities. This has served to develop and cement further trusting relationships between CTC providers and pregnant women. The Bangladeshi team are also working on cementing trusting relationships between formal and informal providers for sexual and reproductive health and both sets of providers come to regular meetings at Marie Stopes, which in turn builds trust and exposes informal providers to the types of services provided within Marie Stopes.
A paradigm shift in supervision was identified through ongoing analysis by the Malawi team. Quality improvement data analysis revealed that the approach to supervision is moving away from a checking/controlling approach to a more supportive, enabling approach at the local level. The situational analysis in many contexts also revealed that supervisors themselves felt un-supported and approaches to improve and expand supervision support are taken forward at many levels. The Bangladeshi team explained that it's sometimes hard to know where layers of supervisory processes start and finish. In Kenya, it was felt that supervision should be embedded as part of moitoring and evaluation.
Common challenges include expectations of per diems and other incentives (Ethiopia, Mozambique); competing priorities and workload of CTC providers and their supervisors (Mozambique, Ethiopia, Bangladesh, Kenya); changeover of key stakeholders at district and/or national level (Malawi, Indonesia); political unrest (Bangladesh); and challenges in sustaining changes in supervision (Ethiopia, Indonesia).
Taking forward a learning agenda: implications for the second round of quality improvement cycles
There is renewed emphasis and excitement about the potential of CTC providers in contributing to realising universal health coverage and supporting the Sustainable Development Goals. The REACHOUT perspective is that promoting universal health coverage means expanding both the equity and quality of CTC services. We are now planning the second round of quality improvement cycles where we will innovate and test new approaches. However, to address the issues of sustainability, the focus of the second quality improvement cycle is to move from a researcher-led project to a country led approach in order to embed positive changes for the longer-term. As such we are encouraging capacity strengthening through South-South technical assistance as well as the need for increased advocacy in light of the changing political climates. In our 5th consortium meeting in Cianjur, Indonesia we have been joined by strategic policy makers from each country context in a training of trainer's process to develop systematic, robust, simple and regularly applied processes to quality improvement. Watch this space! 
Recent news