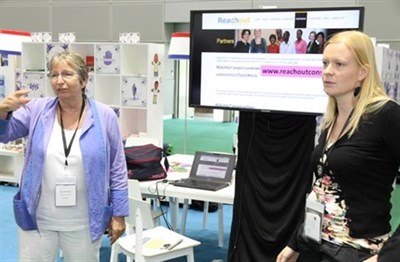 On 28-30 May, the third Women Deliver Global Conference was held in Kuala Lumpur, Malaysia. Around 4,500 people attended.
Korrie de Koning and Maryse Kok from the Royal Tropical Institute were there. They organised a mini-event in the Dutch booth, to introduce REACHOUT to the public. The presentation was well received by a small audience.
In one of the panel sessions, Korrie de Koning was asked by the Global Health Workforce Alliance to present about maternal health interventions involving Community Health Workers (CHWs). Some best practices from different countries were presented and evidence on effectiveness and barriers and facilitators of CHW performance were discussed. In the same session, WHO presented the task shifting guidelines for CHWs and a representative of the Indonesian Ministry of Health presented a case study.
The role of close-to-community (CTC) providers was discussed in a range of sessions at the conference. Key questions that were frequently raised included: how do you keep CTC providers motivated? Which kinds of incentives are most appropriate? How do we avoid over-work for CTC providers? What is the best way of training CTC providers? How can we assure they are embedded in the health system as well as in the community?
The discussions showed that many researchers, programme implementers and policy makers are struggling with the same kind of questions about CTC providers as REACHOUT. As context differs between settings, it's often not possible to come up with one answer that fits all settings. But it seems that the evidence generated by REACHOUT will go some way to offering practical guidance to a range of stakeholders in different countries.