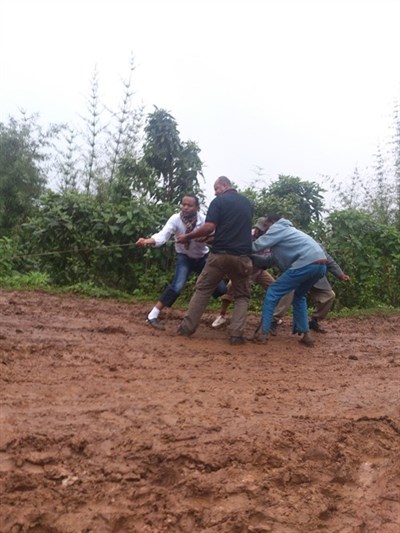 Maryse Kok, 27 November 2013
Some months ago I was in Ethiopia, working together with my colleagues from HHA-REACH Ethiopia on qualitative research for the REACHOUT context analysis. After working hard on the protocol, the tools for interviews and Focus Group Discussions, the organisation of the field work, training the data collectors and testing and adaptating tools, it was time to go into the field. This was in mid-August! We went as a team of eight: three researchers from HHA-REACH Ethiopia, two extra hired data collectors, two drivers and me, the curious PhD researcher from Holland.
Now, I could see with my own eyes how maternal health care in rural Ethiopia is organised, what the role of the Health Extension Worker is, and what people in the community think about the services delivered. I have seen and worked in many rural areas in my life. But Chire district in Sidama zone could be labeled as "remote rural". It's about 200 km from Hawassa and it takes a whole day to travel there as the roads are rough (resulting in many tire punctures). Moreover, the rainy reason made some parts very difficult to pass. As a result we discovered that our team has also good skills in dragging cars out of the mud. We had a lot of fun and the whole team is still talking about the fact that we had to get out at least 10 times, to pull or push.
Health service access in pregnancy
The condition of the roads makes it even more difficult for pregnant women to access health care. Health posts, staffed by Health Extension Workers, are supposed to offer maternal health services (including antenatal care, delivery and postnatal care) close to those women that live far away. But, from many respondents in our interviews and discussions, it became clear that health posts were poorly fitted out. In many cases, there is no equipment available, not even a bed, no electricity and water. The job of the Health Extension Worker is further challenged by the fact that their training is mostly theoretical and they have limited practical experience to contribute to increased delivery. Most of the Health Extension Workers who we spoke to were, despite all the constraints, happy to do the job. They were motivated by the fact they were helping mothers and children and they were respected by the community.
Ethiopia has a low percentage of institutional deliveries (about 10%). Most women still prefer to deliver at home.  Traditional Birth Attendants are banned, but in some areas they are still working. We visited a Traditional Birth Attendant who reported us proudly that she delivered many children in the village, including the current Health Extension Worker! Our research provided some insights into why women don't go to a health facility for delivery. Cultural practices and habits play a big role.
At the moment, we are busy analyzing all the data that was collected in 6 districts. The data set is rich and gives us a good basis for the improvement cycle that is going to be set up in 2014.