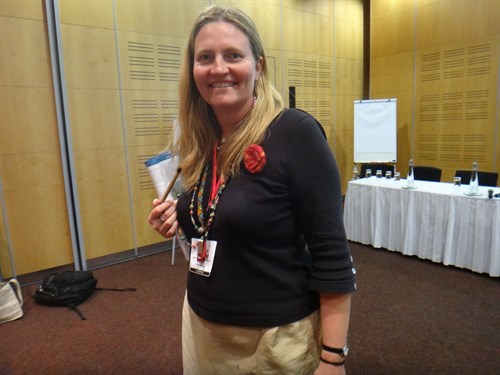 By Sally Theobald, 6 October 2014
The session on "Community-based health systems in South Asia" at the Health Systems Symposium was auspiciously held on the 2nd of October - Mahatma Ghandi's birthday. The Chair, K.Srinath Reddy from the Public Health Foundation of India, highlighted how ensuring all services are close-to-community and respond to community needs was central to Ghandi's heart and philosophy. Presentations focused on community engagement and dialogue in health at multiple levels:
At the local level:
Bhupinder Aulakh demonstrated how aware and informed groups of women working as a collective can claim and demand improved and responsive health services within specific local contexts in Uttarakhand in India. Nadira Sultana used stakeholder analysis to understand the ways in which local elites and powerful others can dominate and shape power and development within urban slums in Dhaka, Bangladesh. She argued that it is important to recognise and engage which the social and structural factors that shape and influence power structures both within and outside the slums. This is important and challenging learning for REACHOUT, as in Bangladesh, quality improvement cycles will be undertaken in urban slums.
Within interactions between close-to-community (CTC) providers and communities:
Arima Mishra highlighted the importance of trust and team work in community health workers' (CHWs) experiences of integrated health service delivery in India. Through an ethnographic approach she illustrated the importance of building trust and relationships through ongoing "sisterly engagement" both in and beyond health. Shreelata Rao Seshadi highlighted how gender and power interact to constrain the ability of young female CTC providers who are easily dominated by older male community members. She highlighted how CHWs in very rural Indian contexts come from the communities they serve and how in many cases they have internalised the ways in which gender asymmetries play out. Also from India, Bhupinder Aulakh highlighted how strengthening capacity of CHWs through supervision can improve social and health outcomes and promote equity.
Across and between institutions, practitioners and policy makers at the global level:
Ilias Mahmud from the James P Grant School of Public Health and BRAC Institute of Global Health presented REACHOUT's capacity strengthening approach for CTC services with a particular focus on south-south technical assistance. He highlighted the process of matching (following identification of strengths and weaknesses) carried out across and between partners and the learning and capacity development that can be generated through immersion in diverse CTC programmes. REACHOUT partners (researchers, policy makers and practitioners) can visit and 'immerse' themselves in CTC programmes in other contexts to inform the Quality Improvement Cycles that they are cinducting. Following each south-south exchange, visitors and hosts are asked to reflect on what they learnt through the process and implications for quality, effective and equitable CTC programmes within their own contexts. 
Recent news