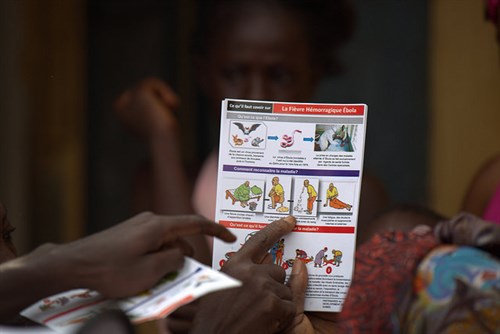 Sally Theobald, 7 October 2014
The Health Systems Global Conference featured lots of discussion on close-to-community providers and REACHOUT had an excellent presence throughout the conference with the Thematic Working Group, the interactive panel and oral presentations. Our beautiful, bold and large posters also provided a cohesive overview of REACHOUT's findings to date in multiple contexts. CHWs were featured in the final statement as follows:
"Community health workers can play an important linking role in enabling inclusive and representative community participation. We need to promote local institutional mechanisms that support inclusive and representative community participation in health, recognizing that the collective voice can drown out the needs of the most marginalized and vulnerable."
Close-to-community providers and community based health systems are also arguably critical to another central thread of discussion throughout the Cape Town conference – Ebola. Ebola is fuelling mistrust between health services and communities and in some cases health services are being abandoned by both health workers and communities. The urgent need to rebuild trust between health systems and communities was highlighted in discussions on Ebola at Health Systems Global including at the panel co-hosted by USAID and ReBUILD.
CHWs have played a key role in stemming previous outbreaks of Ebola and in our ReBUILD meeting Sarah Ssali from the Department of Women and Gender Studies at Makerere University, highlighted how building trust and collaborative working relationships with different community groups and structures, particularly community health workers was critical to the swift response to the 2001 Ebola epidemic in conflict affected northern Uganda.
There appear to have been some missed opportunities here in current responses in West Africa and working in partnership with close-to-community providers to support health promotion and treatment seeking is arguably an important component of a robust and a resilient Ebola health systems response. Gender also matters, the roles of women as girls as carers within households and communities means they are especially vulnerable to infection. In Liberia it is estimated that 75% of Ebola cases are female and in Sierra Leone women have comprised 55 to 60 percent of the dead.  Within Sierra Leone the newly constituted Maternal Health Promoters are embedded in communities and have trusting relationships with women and could play an important and strategic role in spreading health promotion messages and support.
Photo courtesy of UNICEF Guinea https://www.flickr.com/photos/unicefguinea/14847049209
Latest news