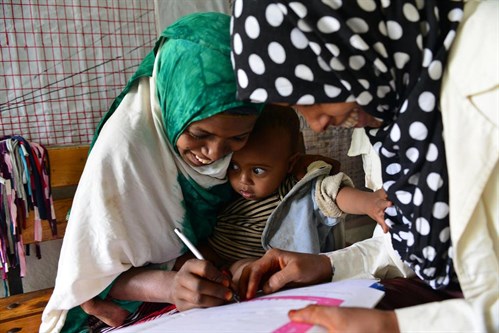 REACH Ethiopia operates in southern Ethiopia and implements projects on public health priorities in line with the health sector transformation plan. In collaboration with LSTM REACH Ethiopia implements maternal and child health (MCH) programmes in partnership with close-to-community services through the REACHOUT consortium  and TB prevention and control efforts. REACH Ethiopia is implementing an e-health project, funded by IDRC, in Sidama zone, southern Ethiopia. This exciting project works with all female Health Extension Workers, supporting them to use mobile technology (e-health) to improve health management information systems (HMIS) and contribute to more responsive TB and maternal and child health progammes.
As part of this programme, following a multi-method baseline analysis on HMIS and understandings of e-health, integrated MCH and TB training was conducted in Furra Institute of Development Studies, Yirga Alem. The training was provided to all Health Extension workers based in six woredas of Sidama Zone and six selected health centers. The training was officially opened by the representative of Sidama Zone Health Department, Mr. Emala Lamacha. In his key note address Mr. Lamacha stated that this collaborative project aims to improve our data management and use for timely action on major public health priorities. He underscored his commitment and requested the participants to support successful implementation in order to contribute towards improved health service delivery. 57 female health extension workers and 17 health workers, including the district and zone program coordinators of MCH and TB programme participated in the training.
The training was organized by REACH Ethiopia office teams as part the orientation and training necessary for the implementation of the e-health project. The training was interactive and included both practical and theoretical sessions; although the priority was practical as most participants had limited experience of using smart phones. Participants worked in six groups (one for each woreda) which supported practical learning, support and relationships building between health extension workers and their colleagues and supervisors. The group worked through exercises on how to use smart phones and on procedures to be applied when using the specific e-health platform that has been developed. In the feedback at the end of the sessions, participants stated that the training was well organised and that they have acquired appropriate skill and knowledge for project implementation.
Stay tuned for further updates on this project!
Photo credit: This image is featured courtesy of UNICEF Ethiopia/2014/Nesbitt under Creative Commons license
Recent news