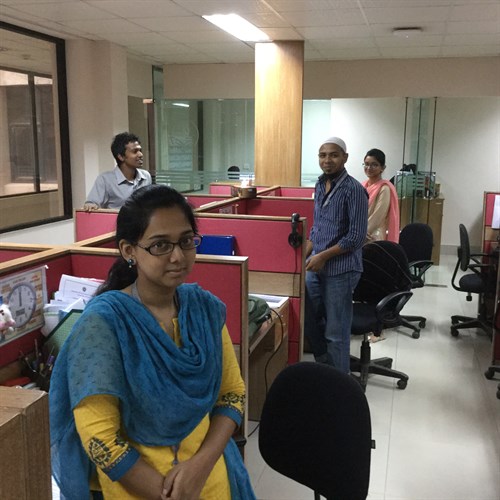 By Salauddin Biswas, Noor Kutubul Alam Siddiquee, Sumona Siddiqua, Tamanna Majid, Muhammad Riaz Hossain and Sally Theobald
Menstrual regulation (MR) is a way to safely establish non-pregnancy up to 8-10 weeks after a missed period. MR is legal in Bangladesh and many women have undergone this procedure. Despite this, MR remains a very sensitive and stigmatized issue. Women's experiences are shaped by the gender and power relations they experience within households and communities.  Differing levels of stigma exist with various communities.
The team in Bangladesh have been conducting research on sexual reproductive health (and in particular MR) in collaboration with Marie Stopes and RHSTEP at a time of political upheaval. During the process we have had to deal with a number of challenges and remain flexible and responsive in our approach. In this blog we provide some learning which we hope will be useful to others working on health systems.
Careful interviewing
During our research we found that women who had undergone MR were reluctant to have their experiences recorded. Religious, social and family pressure can bring stress to potential interviewees; for example in-laws may pressure young women into keeping a pregnancy when they do not feel ready to do so. We therefore made the decision to not record the interviews and focus group discussions but instead take detailed notes. So that we did not lose the depth and detail of the information we:
Ensured we had an experienced team - all of the research assistants had a masters degree (mainly in Anthropology); rigorous and thorough training was undertaken with them.
Interviewed in pairs - one note taker and one interviewer swopped roles on a regular basis. We interviewed a maximum of two people a day to ensure that researchers did not become fatigued.
Paused and clarified at key points during the interview - which also served as a form of participant checking.
Wrote up notes immediately while minds were fresh after the interview or focus group discussion - with inputs from both recorder and interviewer.
We paid attention to the choice of interviewer, women researchers interviewed MR clients to help build up rapport. We also thought carefully about the terminologies deployed. In discussing MR, the Bengali terms (baccha nosto kora, baccha wash kora, baccha falay deoa) literally translate as 'dropping a baby' and so it was thought best to avoid them. The terminology of MR is common and this was used or instead interviewers asked, "what do you do if you/person X doesn't want to keep a baby?" Initially some MR clients were not comfortable talking about themselves and were nervous. They often talked in the third person about other women's experiences, followed by their own only when they felt comfortable.
Confidentiality and anonymity
Sensitive approaches are critical when dealing with an issue like MR and confidentiality needs to be maintained at all times. Anonymity is absolutely key in the provision of MR services at Marie Stopes; for example client names and details are not requested. This brought challenges in terms of interviewing clients who had been referred for MR. Where possible trusted providers/referrers made links to women to discuss this further only if they were happy to be interviewed.
MR clients did not want to be interviewed in their homes or communities, and there was no private space at the clinic. The where, when, and process of negotiating informed consent in these contexts needed careful consideration: we let the clients decided the where and when of the interview.
Challenges of working with time–poor participants                                                            
Both close-to-community (CTC) providers and women living in Dhaka's urban slums are time poor and juggling multiple demands. CTC providers are busy with their work and meeting targets for visiting clients and referral. Urban slum women are negotiating the challenges of paid work (for example as cleaners and cooks) and unpaid family responsibilities (such as the household, child care and domestic work). Both have to cope with the demands of Dhaka's notoriously terrible traffic.
Ensuring interviews were conducted at a time and a place that was convenient to participants was paramount, and required great patience from research assistants who sometimes had to wait 12 hours for one interview. Sometimes CTC providers were impatient with detailed probing interviews, complaining that they had targets to reach. As a result decisions on the order of the topic guide and the depth of probing had to be made.  Urban women also needed to rush back to their household chores or they would be in a position where they needed to explain to their family members why they were so late at the clinic. Sometimes clients' husbands came with them to the clinic and did not permit their wives to participate in the study, or if they did, it was not for long.
Writing up transcripts
Transcripts were first written up by hand in Bengali and then translated into English and typed up. There were dilemmas related to transcription: does it make more sense to employ professional transcription specialists with excellent English, or should research assistants who may not have excellent English but collected the data undertake the transcription? In this case it was decided that the research assistants should do it: they undertook the interviews and knew the depth and detail of the interaction, the nuance and the unspoken body language – which can provide critical clues to meaning.  The translation process from Bengali to English was overseen by senior researchers to double check meaning and transcripts were returned with queries if there were inconsistencies, omissions or didn't seem to add up/make sense. Working as a team and bringing different perspective to the analytical process strengthened its quality and robustness. We debriefed on a daily basis to bring in different perspectives, to triangulate across different methods, sites and participant groups and to understand and interrogate inconsistencies if and when they emerged.
The realities of political unrest: researching in unpredictable contexts
Bangladesh has faced periods of political upheaval, strikes and unrest during the period that we have been undertaking this research. In response to the political environment, James P Grant School of Public Health has at times had to inform its staff that it is their choice whether to come to work or not. REACHOUT staff have shown fantastic commitment and continued with their work, and under the excellent management of Ilias Mahmud, who asked all research assistants to keep their timetables on google file and update any changes so all could be accounted for. The political situation has also brought challenges to the processes in the Quality Improvement cycle - sometimes special transport (ambulances) had to be arranged for people to come to trainings and feel safe to travel.
Ensuring quality and trustworthiness across the qualitative research cycle is challenging. We look forward to further discussion and exchange on the experiences of data collection within the realities of research in different contexts and on a variety of topic areas.
Recent news